What a POS solution can do to YOUR BOTTOM LINE
POS Systems Have Proven That They Save More Money Than They Cost!!
The cost of an entry level POS system is less than $7.00 per day(oac)
Do you want to improve the speed and accuracy of your Staff?
Do you want to make more money?
Do you want to reduce loss through mistakes or disloyal staff?
IMPROVED UP SELLING
– By using a POS system to coach staff, one establishment increased Up Sells such as Fried Mushrooms by 28%. At an average of $2.00 per add-on, this meant a bottom line increase of $28.00 per day.


DRAMATICALLY REDUCE INVENTORY THEFT
– By implementing minimum Inventory Control, STAFF STOP HANDING OUT FREE BEER TO FRIENDS.


DRAMATICALLY REDUCE CASH DRAWER THEFT
– By assigning individual drawers with security, cash floats become the responsibility of the wait staff. One establishment was averaging $5.00 cash short every day.


IMPROVED INVENTORY
– On establishment was carrying equal amounts of ten beers only to find that 90% of sales was from 3 beers. They reduces stock in the other 7 and gained inventory space for their main sellers.
– On establishment prepared 40 sandwiches every morning. Sales analysis showed that on Mondays and Wednesdays they sold out, but the remaining days they were over stocked by as mush as 45%. After adjusting the number pre-made sandwiches, wastage was reduced to near zero.


IMPROVED STAFF SCHEDULING
– On establishment scheduled wait staff for breakfast. After reviewing Sales Analysis, they reduced the schedule by one person resulting in a savings of about $16.25 per day.


IMPROVED CUSTOMER SATISFACTION
– perhaps the most important feature
– Improved communication between the wait staff and the chef means
–— gravy is always on the fries that were requested
–— entrees always come with the correct fries or mashed potatoes
–— salad dressing is always on the side when requested
–— steaks always come cooked as requested
–— sandwiches always come in the correct white or brown bread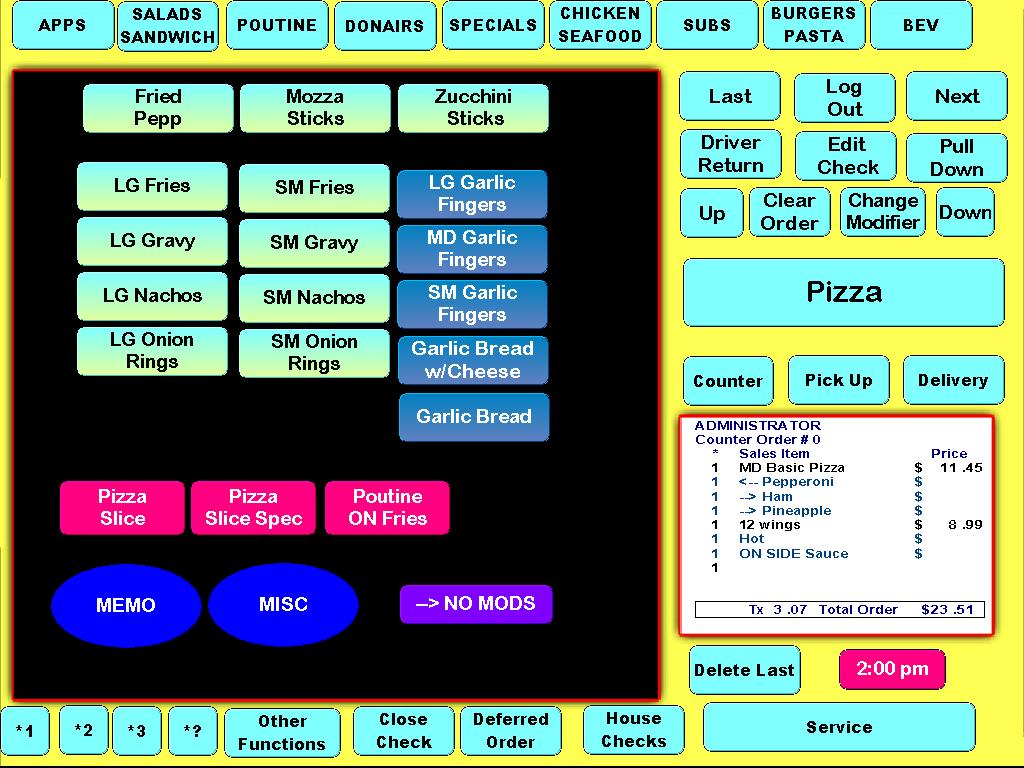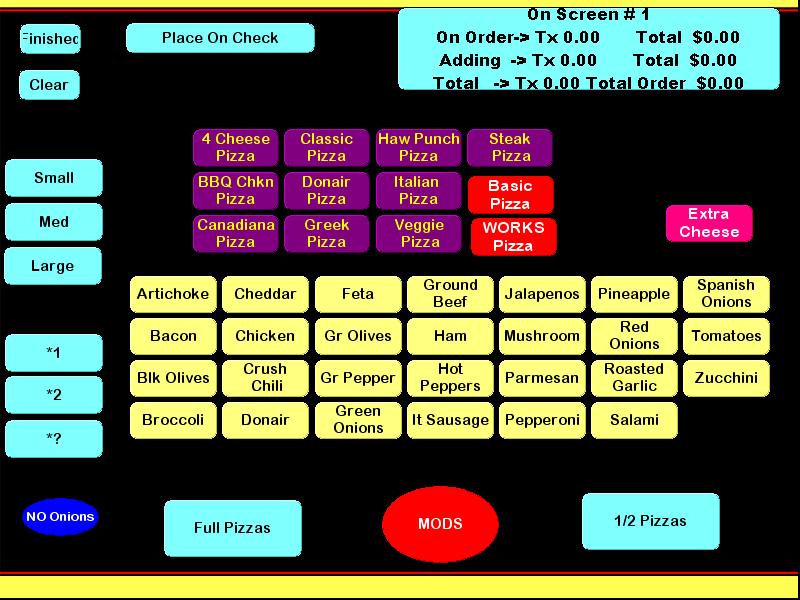 First, take a second to see the functionality that our POS systems have:
Table Management & Reservations
Inventory
Wait-Staff Scheduling
Pizza Delivery & Extremely versatile Pizza Pricing models
Interfaces to Hotel Systems, Quick Books and Simply Accounting
Hand-Held POS & Integrated Credit Card
Reports for Inventory, Staffing, Best Sales and more
House Accounts & Customer Loyalty
Security ranging from passwords to fingerprint scanners
Our POS system will:
increase staff speed and accuracy
improve controls to stop staff shrinkage
speed up close out at night
find ot what sells best and when
provides all the functions of the expensive systems
very quick to teach staff
very quick to modify menus (daily specials)
add modifiers to make more money
"do you want mushrooms with your steak?"
We Do Exellent Pizza ! !
caller-id allows one button touch, "last order" creation in seconds
ensure drivers don't "get lost" with mapping/routing features
use customer loyalty programs to drive up revenues
increase driver efficiency and track multiple job codes
improve security and profits though enhanced void/promo control